Something in the Dirt 
The filmmaking duo of Justin Benson and Aaron Moorhead consistently turn out compelling, thought-provoking genre films, and their fifth and latest feature, Something in the Dirt, may be their best yet. The duo proved in 2017's The Endless that they are as solid in front of the camera as behind it, and they bring that multihyphenate magic on both sides once again here in a spellbinding tale of two men who witness what seems to be a supernatural miracle in one of their apartments. The event sends hard-luck case Levi (Benson) and religious neighbor John (Moorhead) down a rabbit hole where one conspiracy theory leads to another and so on. These two men, living on the fringes of society, see this as their big opportunity to get rich quick by way of putting together a documentary about the strange phenomena that they witness. This being a horror movie, things of course don't turn out the way that they planned. With a screenplay by Benson and the duo codirecting and coediting as well as starring, Something in the Dirt is so full of wild theories and sharp dialogue that it almost demands repeat viewings, but that isn't a problem as the film captures the desperation and paranoia of modern American society in a thoroughly entertaining, mind-boggling manner.
Something In The Dirt is currently in theaters in the U.S. and will be available on VOD from November 20, 2022.
Something In The Dirt will be available in the U.K. on Digital Download and Blu-ray from 5th December.
You Won't Be Alone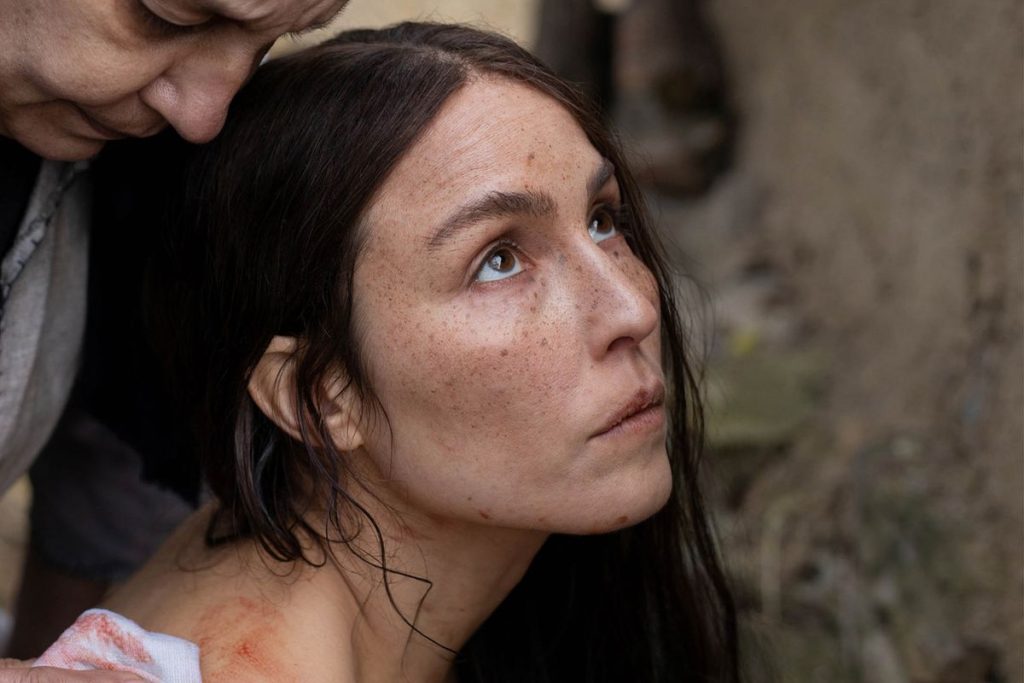 Australian/U.K./Serbian chiller You Won't Be Alone is an amazing ruminative folk horror feature that finds older witch Maria (Anamaria Marinca) wins a 16-year-old girl named Nevena (Sara Klimoska) after a bargain with the girl's mother. Maria turns Nevena into a witch, and writer/director Goran Stolevski's poetic film follows Nevena's journey through her living in the bodies of several different people, making You Won't Be Alone a compelling blend of bloody fright fare and coming-of-age tale. Every frame is gorgeous thanks to Matthew Chuang's stunning cinematography, and not a shot nor a word is wasted in this remarkable effort. Along with fine performances from the two aforementioned leads, a superb supporting cast also impresses, especially Noomi Rapace (Lamb, 2021) as the first person whose identity Nevena assumes. Aficionados of dark fables and folk horror will not want to miss this exceptional feature. Focus Features releases You Won't Be Alone theatrically in the United States on January 28, 2022. 
Emily the Criminal
Aubrey Plaza gives a phenomenal performance as the titular character in the dark thriller Emily the Criminal, written and directed by John Patton Ford. An assault charge from a few years previous has been preventing debt-saddled Emily from getting a well-paying job for a few years, so when a coworker at her catering gig tells her about a job that pays $200 for an hour's work, she checks into it, finding that it is a credit card scam. Youcef (Theo Rossi), one of the operators behind the scam, then offers her a $2,000 job, and suddenly Emily is immersed in a dangerous, violent underbelly of a world that she wants to learn more about, even as her life is threatened. Emily is a morally complex character but Ford's writing and Plaza's portrayal make her sympathetic enough to root for her throughout this nail-biter. Emily the Criminal is a fast-paced, adrenaline-fueled window into a world of desperate people living on the fringes of society and those who take advantage of them. 
Something in the Dirt, You Won't Be Alone, and Emily the Criminal screened as part of the 2022 Sundance Film Festival, which ran online January 20–30.