New Years is either boring or fun, depending on what you're doing. May it be standing at the snack table at a party eating cheese, say you're going to party all night long just to be passed out drunk at 8 pm, or posting pictures of your dogs or cats wearing New Year's hats. Either way, you're stuck in the same cycle; let's spice things up with creepy dolls.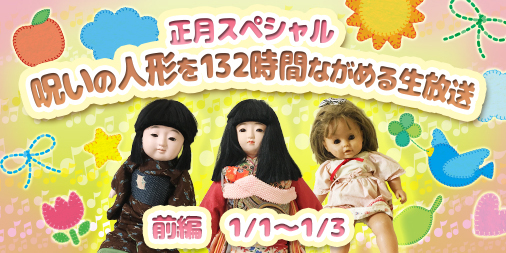 The Japanese website Niconico Live will be broadcasting a live stream titled "Gazing at Cursed Dolls for 132 Hours Broadcast" from January 1st to the 6th with cameras locked on one thing…dolls that are said to be haunted. Right now about seven dolls known to Japanese internet users are going to take center stage with others to be added to the lineup.
The dolls range from traditional Japanese, typical western, and even mannequin heads used by those training to be hair stylists. One of these dolls is a traditional Ichimatsu doll named Kiku Hime who is said to emit a crashing sound, though her surrounding is peaceful. The doll almost resembles the famed Okiku doll.



Then there's
Charmy
, whose charm is short-lived as she's said to have the ability to make lights flicker.
If you're feeling brave and would be interested in watching the streams,
the first part
starts January 1
st
at noon (Japan time) till January 3
rd
, and then
the second part
starts midnight January 3
rd
till the 6
th
(Japan time). Who knows what we'll see…
(from the movie "Reincarnation")