The season finally AMC's horror anthology series, "The Terror" ended on a high note with its second season titled "Infamy" that took place during the events of the Second World War when American citizens of Japanese descent were forced into internment camps as the American government feared that they would aid the Empire of Japan from within. After watching all the episodes here's my spoiler-free look at The Terror: Infamy.
First off, unlike the first season, this season's story is original and right from the get-go, it pulls you in with the creepiness! As much as I loved the first season, it's kind of boring in comparison with this one as there's a lot of buildup with brief moments of horror followed up by more exposition. In this season, the story is being told as the action unfolds. I should also note that there are moments where the characters speak Japanese and there are subtitles, thankfully these moments are timed right so if there's any action on screen, you won't miss it because you're reading.
Continuing on about the story, it tells very much like a classic Japanese ghost story but set in modern times, instead of the main character being an apprentice or noblemen, he's a photography student, instead of a war raging between rival clans, it's WWII, instead of a ghost coming back from beyond the grave to right the wrongs she endured you get…well yes, you do get that one!
Now on to the best part of this season, the cast! I'll admit out of the main cast I only knew two by heart.  This a sad truth about Hollywood, it's not that fair when it comes to the casting of non-white actors, especially Asian ones who they seem to cast in stereotypical roles that usually border on being comedic caricatures of certain nationalities. After seeing these amazing actors in action, I really hope Hollywood will be calling their agents for upcoming projects, let's meet them!
Derek Mio is the main protagonist Chester Nakayama. Chester is the typical young American man who wants to find his place in the world and not follow in the footsteps of his father, Henry, a fisherman. Chester grows from being self-absorbed to thinking about others to the point of risking his own life and enlisting and going overseas in order to lure the vengeful spirit of Yuko away from those he loves.
Kiki Sukezane as the story's main antagonist, Yuko. Like in many Japanese ghost stories, Yuko is the young beautiful mysterious woman that unsettles you and for good reason, she can be charming to the point that to other characters she's sincere but the audience screams "Don't trust her!" at the TV. As good as she was making you not like her at the start; she starts to make you pity her towards the end.
Cristina Rodlo is Luz Ojeda, Chester's love interest and tool in Yuko's plans. The character Luz is one of two that stood out to me as the season progressed because of how her character changed. Luz goes from being on the outside of the Japanese community before allowing her to be thrust into it in the internment camps and being an outsider among those made into "outsiders". As her story progresses Luz goes from being a young woman trying to fly under the radar to become stitching that holds the fabric of the story together.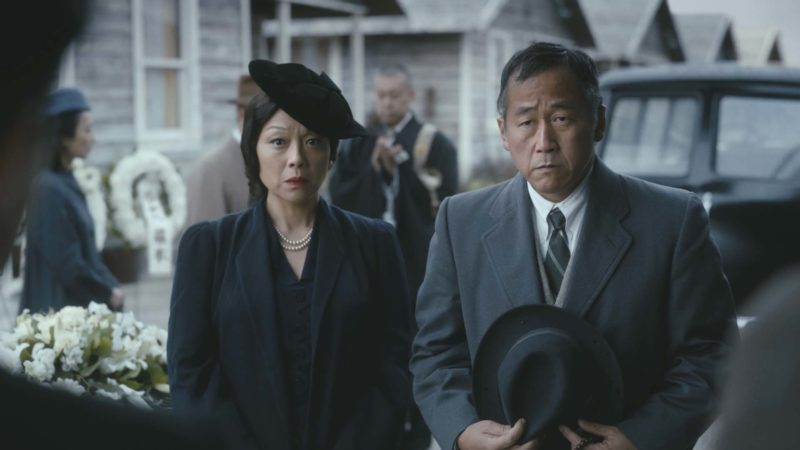 Shingo Usami & Naoko Mori as Henry and Asako Nakayama. Chester's parents, though being Japanese immigrants, they act like the typical American parents when it comes to them wanting the best for Chester. Henry and Asako's growth towards Luz is purely heartwarming, especially when at first Henry wanted nothing to do with her but eventually becomes protective. Asako's pain and worry are worn on her face well at the right moments to convey the overall tone set in the season of the lengths Mothers will go for their sons.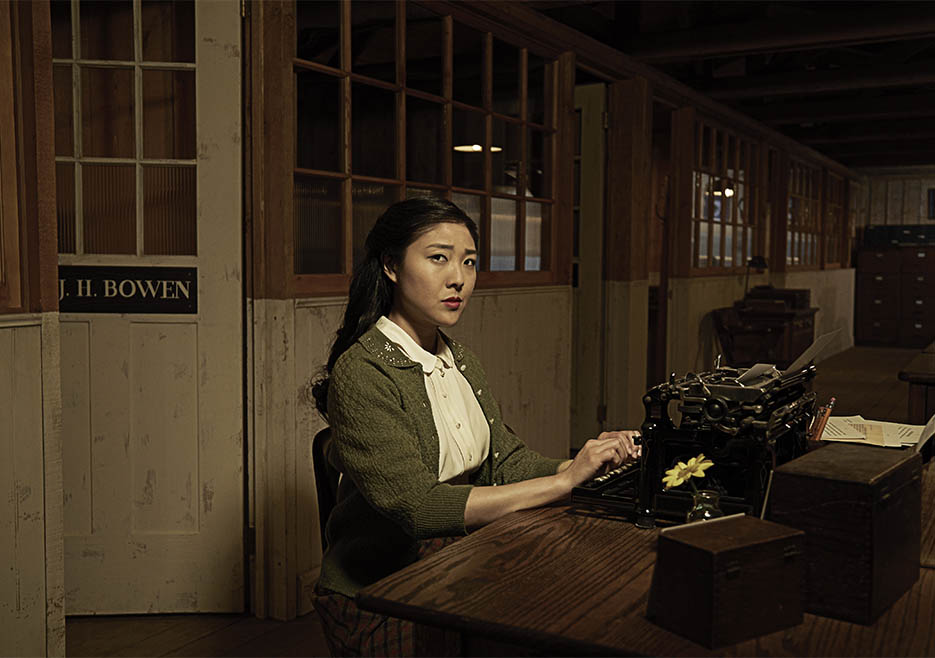 Miki Ishikawa is Amy Yoshida, her family is friends with Nakayamas and she and her brother Walt are close with Chester. Amy unlike most of the other characters in this tale is not facing supernatural horror but the real-world horror of wartime fueled racism. At the start Amy is your typical American girl not seeing her any different from anyone else as seen when her mother takes her to the office of Major Bowen, Amy shows her defiance clearly by not looking interested in the conversation as if saying she can't believe she has to do this to prove her loyalty.
George Takei as Nobuhiro Yamamoto. I mean, come on, there's not much else to say! Yamamoto is the Grandfather we all want, from the first episode to the finale; you can't help but love him when he's on the screen. Yamamoto's role as a wise community elder brings humility to the story, especially knowing Takei's background of growing up in an internment camp during the war and being an outspoken advocate as a result; he really brings the performance home.
Overall this season was amazing and truly hard to top. Without going into too much detail about the last episode I will say you might night a box of tissues as it's really emotional and what really got me was at the end in a purely majestic show of class, they had pictures up of cast and crew members alongside pictures of relatives who were in the internment camps during the war, a powerful visual that hits home the tone of the last episode about honoring one's past and remembrance. It will indeed be hard to forget The Terror: Infamy.