There are only 94 days left until Halloween, and if you are like me, I go BIG every year. The neighbors have come to expect a show. So it's time to start planning and stocking up on spooky decorations. I stumbled across HalloweenCostumes.com and ordered a few things to get me started.
The website is massive, featuring everything you could need for a killer Halloween, including props, decorations, costumes, and spooky decor, but let's be honest, you don't need a holiday to have cool horror-themed items around the house.
So, I ordered four items, a ghost, a floating witch, a standing witch, and a wreath. They arrived in a matter of days. You may be wondering if the items look like they do on the site. The answer is yes. You get exactly what you ordered and they come ready to go, with all animatronics coming with batteries already installed.
The wreath ($19.99) features a skull and pale yellow/white flowers and a Welcome sign. And it's really pretty. If you're looking for something decorative to hang on your door, but don't want to go with anything scary, this wreath is perfect.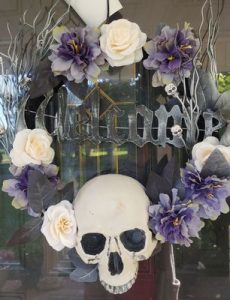 The 3 feet long ghost ($19.99) features a woman's face in 3D with dark sunken eyes under a layer of thin white cloth. She floats midair with her arms (which are posable) wide open as if she's inviting you in for a hug. I have a tip for if you buy this one, get a solar light and shine it up at her. It will highlight her face and make her more spooky.
Now, for my favorite of the bunch, the floating witch, which sells for $39.99. With a sickly green face, she holds in one hand a skull and points with the other. But she doesn't just float there, she's animatronic. She cackles, and shakes and wags her finger at passersby as if she is warning them they may be next.
As for the standing witch ($79.99),  She's your typical old hag holding a bright red, very realistic, apple in one hand. She talks and cackles as she turns her head back and forth. Her eyes light up, making her even more creepy. Her black ragged dress is of good quality and adds to the creepy factor. Assembly is a breeze. It took less than 3 minutes to put together, without even looking at the directions. My only issue with this one is that the face isn't very solid and could potentially be damaged easily.
"Trust me! I built this gingerbread house just for little children like you! Pay no attention to the iron cage scattered with human bones!" Other times she says, "Try an apple, my pretty? What? No, of course, it's not poisoned! I have great self-esteem and am certainly not jealous of you for being the fairest in the land."
One of my favorite features on the site is that all animatronics feature a video so you can see them in action, not just read about them. There's also very detailed information about each item, so you know exactly what you are getting.
I looked around HalloweenCostumes.com for a long time and it left me impressed. They have amazing costumes and other items and I'll be honest, I have already added a bunch of stuff to my cart. I'll be ordering and reviewing more items shortly. Stay tuned.