Friday the 13th is an iconic horror franchise. This summer you can have the ultimate viewing experience, On Set Cinema is hosting an event and screening of Friday the 13th Part VI: Jason Lives at the camp where the film was made, Hard Labor Creek, aka Camp Crystal Lake.
ON SET CINEMA is heading to Camp Crystal Lake on July 1-3 & 3-5, 2022 for a very special event! Go camping and watch Jason Lives at Hard Labor Creek State Park (aka Camp Crystal Lake …aka Camp Forest Green) in Rutledge, Georgia where the majority of the movie was actually filmed!
That's not all, actor Thom Mathews (aka Tommy) will be a special guest at this event! This will be his first time returning to Camp Crystal Lake since filming took place over 36 years ago. He'll be signing autographs, taking photos with fans on the pier, doing a Q&A before the movie screening, and giving a filming locations tour.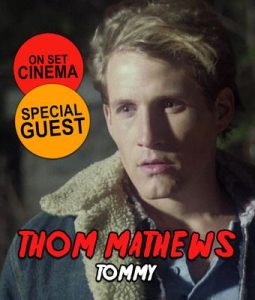 You'll be able to see where Sheriff Mike Garris gets bent completely in half by Jason, walk on the pier where Officer Thornton gets a dart to the forehead, hang out in the cabin where Sissy gets snatched out of the window and her head twisted off and swim in the actual lake where Tommy fights Jason during the movies' climatic ending!
Fans will enjoy an entire weekend of summer camp – shared cabin camping with bunk beds, games (egg toss, corn hole, tug-of-war, board games, video games & more), campfires with friends, roasting marshmallows and making s'mores, watching VHS horror movies on tube TVs, swimming and canoeing in Crystal Lake and of course an outdoor screening of Jason Lives by the lake!
💀 OPTION #1 (ULTIMATE EXPERIENCE – VERY LIMITED TICKETS LEFT!): Friday, July 1 – Sunday, July 3, 2022, with special guest Thom Mathews (Tommy)
💀 OPTION #2 (STANDARD PRICE): Sunday, July 3 – Tuesday, July 5, 2022
For more details visit the website. Get your tickets now before they sell out!