Girls Night In
Director Alison Roberto's horror comedy Girls Night In takes a satirical stab as it takes into consideration The Bechdel Test, which, according to https://bechdeltest.com, "is a simple test [about films] which names the following three criteria: (1) it has to have at least two women in it, who (2) who talk to each other, about (3) something besides a man. " This blast of a short film, with a clever screenplay by Landon LaRue, finds cautious, diabetic Becca (Jess Adams) and her outgoing friend Delaney (Skylar Benton) spending the evening over a bottle of what the latter insists is carb-free wine, when an intruder with deadly intentions invades the former's home. As the girls attempt to shelter themselves in Becca's bathroom and call 911 for help, the absurdity kicks in. Adams and Benton are obviously having a lot of fun in their roles. As with much satirical comedy, the humor is divisive, using elements that would not pass The Bechdel Test to show the shallowness in horror films that don't pass it, either. The short walks a fine line between hitting its satirical marks and falling into the same traps it is trying to skewer, delivering plenty of laughs and the red stuff as it does. 
Crimson Ties
In a more serious girls'-night-in vein, director Francesca Scorese delivers a shocking coming-of-age horror short in which 10-year-old Elle (Carleigh Johnston) is brought to a house by her older sister Jules (Petra McGregor), where the teen sibling and her friends plan to party with alcohol, even peer-pressuring the youngster to take a shot. Things get wild and brutal after that, and not a little ambiguous. There's a pendant involved that Elle's mother and Jules are seen wearing in photos, and the carnage is shot, edited, and concluded in a dizzying manner that is best left spoiler-free for future viewers to chew on. Scorsese delivers a haunting, fast-moving work with solid performances.
Lamb
Writer/director Sinéad O'Laughlin weaves a masterful web of suspense in her Irish short Lamb. Sarah (Aoife Duffin) is alone at her rural home with her baby Lucy (Evie Miles and Faye Miles), with her husband away at work for the week, when a stranger (Éanna Hardwicke as Paul) walks into their kitchen. His demeanor slowly goes from coy to threatening to much worse, with Sarah naturally worried about the safety of her daughter. Duffin and Hardwicke are both incredible, nailing every subtle nuance asked of them. O'Laughlin ratchets up the tension at a practically unbearable pace, and I absolutely love the ending of the short, which is one of my favorites of the year so far.
Skin & Bone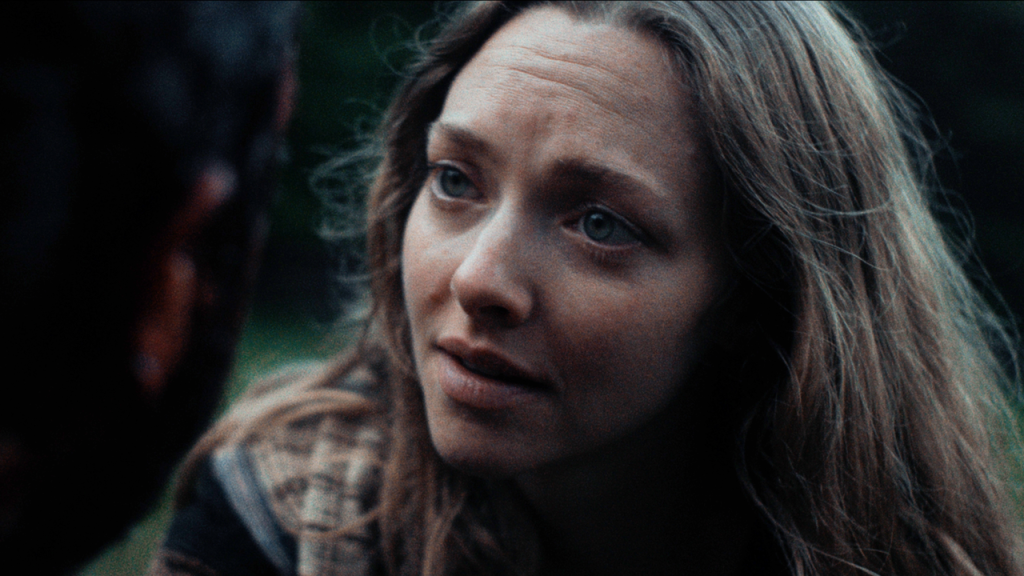 Amanda Seyfried is no stranger to horror cinema, including starring turns in Jennifer's Body (2009) and You Should Have Left (2020), and in writer/director Eli Powers' Skin & Bone, she gives a haunting performance as an enigmatic woman named Serene who hires a drifter named Christian (Thomas Sadoski in a fine supporting turn) to help out on her farm. Christian, naturally, comes with some troubles made even more maddening by visions and voices, and Serene seems to be harboring secrets of her own, which are hinted at in the songs she sings. Powers invests her short with a mystifying, unsettling vibe, and Seyfried is outstanding as the peculiar farmer. Colin Smith's crackerjack editing and Jack Goodman's eerie sound design add greatly to the discomfiting feel of Skin & Bone.
Girls Night In, Crimson Ties, Lamb and Skin & Bone screened as part of Tribeca Festival, which took place June 8–19, 2022 in New York City, with At Home virtual content through July 3 at https://tribecafilm.com/festival/at-home.