The Atomic Age (1945-1965) saw a big surge in horror films as the public enjoyed having their fears played with on the big screen or on the little screens that were now appearing in their homes. The influx of horror films saturating the market birthed the ever-loving B-movies, the kitschy nature and look of these films are what make them immortal which is why I love the hell out of them! But there's only one issue, I want to be comfortable while watching them and I like a good blanket to snuggle in while watching a good horror. You may think that the perfect horror-watching blanket doesn't exist… but you're wrong! Let me introduce you to Retro-a-go-go! an online store specializing in Retro Kitsch!
I want to make a big shoutout to Retro-a-go-go! for helping make this review possible! The title image of this review is featuring the Monster Movie Ads Throw Blanket which features ads and posters for some familiar horror films featuring some of our favorite monsters. This blanket is soft and lightweight but still holds in some warmth with the white fuzzy fleece on the backside for when your blood chills from a good scare on screen! I actually enjoy sitting and looking over all the posters and finding some of my favorite films and some that I'll have to look into watching next!
You can't enjoy watching some good old fashion black and white horror without having the iconic Bela Lugosi watching over you (at least in plastic form)! Introducing the Retro-a-go-go! original, Tiny Terrors collection! The one I got is the Midnight Movie version of Bela Lugosi in his iconic role as Dracula! No desktop, film collection, or memorabilia display is complete without having a mini Bela looking dapper!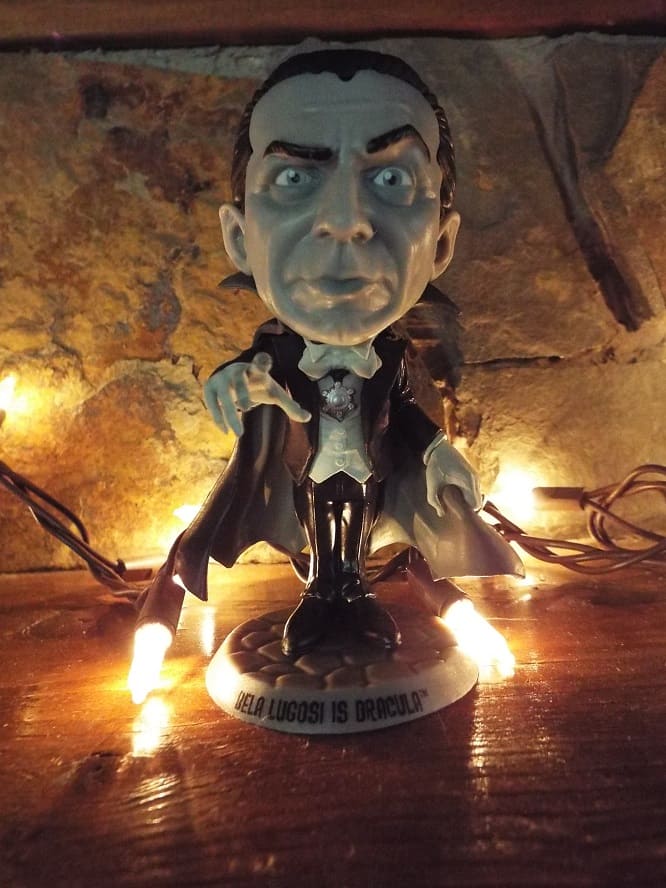 To be honest, I just scratched the surface of all the awesome items Retro-a-go-go! has in their store, and you the reader have a chance to save 20% off your order if you visit their store by using their code RETRO2022 at checkout! You'll find everything from retro Halloween decorations, Kitsch artwork of the atomic age, and pulp magazines along with original art prints, Bettie Page, and even Krampus, along with the throw blanket and Tiny Terrors that were featured in this review!
You can check out Retro-a-go-go! on Instagram, Facebook, YouTube, Twitter, and Pinterest!