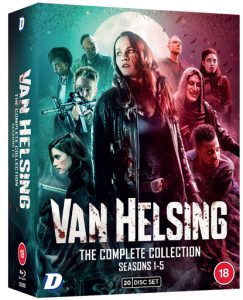 Dazzler Media is kicking off the new year with the release of the final season of "Van Helsing" as well as The Complete Collection boxset on Blu-ray, DVD, and Download-to-own.
"Van Helsing" has become one of the most exciting and entertaining series, combining brutal action and compelling stories, and memorable characters. Inspired by the graphic novel series Helsing, the series has gone on to form a loyal fan base extending worldwide.
Following an event referred to as "The Rising," vampires dominate the world. Vanessa Van Helsing (Kelly Overton), the great-great-great-great granddaughter of legendary vampire hunter Abraham Van Helsing is resurrected to lead the surviving humans in their battle against vampires.
Van Helsing: The Complete Collection features all 65 of the episodes including the eagerly awaited fifth and final season.