After watching the intense thriller Girl at the Window, I had chat with its director Mark Hartley, who is known for his work in documentaries, such as Electric Boogaloo.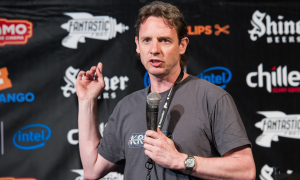 In Girl at the Window,  Amy (Ella Newton) and her mother (Radha Mitchell) move to a new home. Amy sees weird activity – her neighbor comes and goes at strange hours and she hears screams. Is her new neighbor and her mother's new love interest the serial killer that's killing her classmates?
Kelli: "I watched your new movie, Girl at the Window. I really enjoyed it.
Mark: "Well, I'm glad to hear that."
Kelli: "There's not a ton of gore but when there is it's impressive. I loved the eyeball thing. It looked great."
Mark: "Originally that scene was going to be shot with a piece of paper with a slit in it, but the makeup guy showed up with this elaborate mechanism he had built for it. It was hardcore."
Kelli: "It was a very cool effect. I mean, I thought it was awesome. The Girl At the Window is very different than the documentaries you're well known for."
Mark: "I mean, yeah. We were aiming for that. It was tough filming through lockdown, so the fact that got made is a miracle.
Kelli: "Right. Well, I'm glad it did get made. It's a great thriller and the twists were a nice touch. Usually, I see that kind of thing coming, but I didn't this time, so it was a surprise. And that's always a good thing.
Mark: "I'm glad you think so."
Kelli: ". How did the movie come to be?"
Mark: "Producer Tony Ginnane and I had made a feature film, PATRICK, and then worked on a bigger budget follow-up that was a chase film set in the outback. The pitch was DUEL meets DEAD CALM. And after developing that film and trying to get it made for a few years I realized how long it had been since I was on a movie set. I suggested to Tony we find a more modest project that could be easily financed without having to jump through the Australian government financing hoops – and he suggested a script he'd received from Terrence Hammond. It was at that time called EYES – and seemed perfect. It was a page-turner and something we could shoot on a tight budget and schedule."
Kelli: "I love that it's kind of a girl-cried-wolf story and that she continues to fight."
Mark: "That she does. Really, it's a gateway movie. It's for people who can't handle horror and horror fans who like a mystery."
Kelli: "I always look at what drives the killer's motives. When the killer in this movie gives a reason, it was so well said. I love that what drives him is so simple. Speaking of it being a gateway movie, can you explain that?"
Mark: "I think when you look at genre films today they fit into two categories – they are either arty or extreme. Thw Witch and Terrifier 2 are good examples of the two diverse camps. GIRL AT THE WINDOW is really a throwback to the genre films I loved in the 80s – and it sits very much in the middle. I think it's a film that can appeal to people who don't necessarily like horror films or thrillers. It's a gateway film in the sense that novice audiences can dip their tows in genre waters with it and enjoy the story regardless of the fact that it does contain genre elements including a little bit of gore and nudity."
Kelli: "How did you go about finding the film's star?
Mark: "I just, I've spent a lot of hours. She was on television and I had seen her. Her best friend came to me and just Absolutely stunned me. They auditioned and were perfect. I just saw her in the role."
Kelli: There is A lot of bird imagery in the film. Could you please talk about that?"
Mark: "One of the film's many titles in pre-production was BUTCHERBIRD. That was actually my favorite title for the film. I thought it was interesting and evocative and would make audiences think more about the bird motifs featured in the film. Amy sees the killer as a butcherbird (an Australian native bird that skewers its prey and then impales them on sharp twigs) and her mother as its victim."
Kelli: "What do you hope the audience takes away from the film?
Mark: "I'd like nothing more than audiences to have a fun 85 minutes of twists, turns, and surprises. Once you realize the film is a little offbeat and not your typical teen-who-cried-wolf movie it's very easy to get into its groove and enjoy the ride."
Kelli: "What made you wanna be a filmmaker?"
Mak: "I saw Star Wars when I was nine. I worked hard in film school and then worked my way up from being an assistant editor. My work out of film school was Ballroom, but I was an assistant on The Inch. I did music videos, ads, then documentaries, and now movies."
Mark Hartley's Girl at the Window is now out on VOD and Digital, from XYZ Films. I highly recommend it!