It's October and that means it's time to get into the spirit of the season, and obviously nothing gets you into the Halloween mood better than horror. Unfortunately when it comes to most live-action horror films, there's only so much that can be done and shown, but thankfully of all things, Anime can cross the line with story, gore, and intriguing storytelling. So for every day this month, I'll be featuring a unique Anime that fits the horror genre that you can most likely find on any streaming service. Let's paint the town red with Blood-C!
Blood-C (2011) is the third installment of the "Blood" franchise, the story follows Saya, by day she's a typical high school girl who is sweet, kind, and a bit clumsy but by night she hunts and kills monsters. Things soon go wrong when the monsters she fights at night start appearing in the day and the town Saya lives in is not what it seems.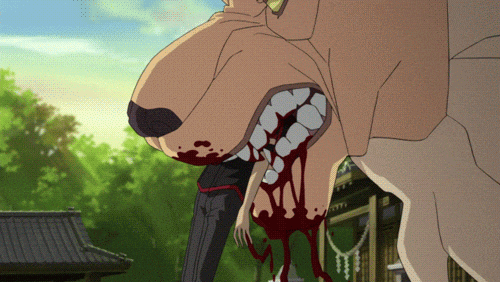 This 12 episode anime is considered one of the goriest in the "Blood" series and has even been met with controversy in Japan and the US but gore aside, the story is done well and the animation is what every horror anime should be.
Don't forget to check out past entries in the 31 Days of Anime Horror by clicking below!
Part 1: Ghost Hound
Part 2: HELLSING
Part 3: Another
Part 4: Monster
Part 5: Gyo: Tokyo Fish Attack
Part 6: Requiem from the Darkness
Part 7: Paranoia Agent