Young musician Bobby (Noah Blake) has it tough; while being a bit on the troubled side, he's a good enough dude… but his Dad uses him for a punching bag, and he's no longer welcome at home.
Despite that, he still shows up to school come Monday morning (arriving to some sort of hair-metal cover of The Mamas & The Papas' Monday Monday like the black t-shirt wearin' badass he is)… which results in the discovery that he, and his gaggle of friends (including Freddy's Dead: The Final Nightmare's Ricky Dean Logan sporting a mullet you simply have to witness to believe) being left out of some sort of upcoming bash because they haven't lived in town long enough (this town hates everyone not from this town for reasons known only to this town… it didn't really make sense to me either… but keep kickin' against the pricks me lads!).
Further complicating things is the fact that Bobby digs popular chick Noreen (Julianne McNamara), which inadvertently enrages big man on campus/raging psychopath James (Brandon Hooper… who you cannot convince me isn't the result of some sort of Weird Science like experiment involving a Ken doll) and his posse (who's ranks include Night of the Creeps' Jason Lively) who begin hassling our hero.
This only increases his romance with Noreen… which is brought to life via park-based montage, for which Bobby actually throws on a white shirt)… which leads to more Jason horseshit… which leads to our protagonist getting into a car accident with James' main squeeze, which leads to James threatening Bobby with a gun… and then Bobby takes a group of his high school Bio classmates hostage!
Ignore that 1990 release date, this thing is pure '80s nonsense (circa 1988 to be precise) through and through slapped over your typical 1950's juvenile delinquent picture, and it's pretty damn fantastic!
Brought to the screen by writer/director Don Murphy (better known in his role as producer for flicks like Michael Bay's Transformers series, as well as the rad-as-fuck live-action adaptation of arcade brawler Double Dragon… which I reviewed right here), Monday Morning is a product of it's time; filled to the brim with questionable fashion, new-wave/hard-rock music, and plenty of cheesy dialog which adds to it's overall charm.
Additionally, Monday Morning has an amazingly tense third act that is absolutely riveting, and the acting from leads Blake (who generates real sympathy for the perpetual bad luck kid) and Hooper (who goes so completely over-the-top it's staggering… and awesome) is choice material indeed.
On the downside, while the film has been returned to fine form indeed for this Blu-ray release, with a minimal of "soft" images, there is a weird visual problem that happens a few times in the film where 1/3 of the screen is interrupted by an image from another scene for a split second… it's so strange that I actually snapped a pic for you cats n' creeps to see: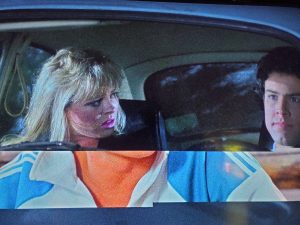 It doesn't diminish the fun to be had, and I'm sure it is a legacy problem from the original print, but man is it weird…
Less weird is the bonus material included in this MVD release (courtesy of their MVD Rewind label)… how's that for a segue, eh creeps?… which includes: the original VHS version of the film (under the name Class of Fear), which definitely shows that the image quality has come a long way, baby… a brutally honest interview with Murphy, followed by a career retrospective of the same, and a promotional video.
Monday Morning is a forgotten gem in the pantheon of juvenile delinquent films (and is loaded with that '80s vibe that serves as cinematic comfort food to many of us)… don't sleep on this one longer than you already have!